Learn Chinese In Shanghai With Hutong School
Are you already in Shanghai and looking to improve your Chinese? Look no further!
Learn Chinese in Shanghai with Hutong School and choose from a wide range of courses to suit your needs. Whether you're aiming to master basic conversation, pass your HSK or learn Chinese for work, we can help. Our team of highly qualified native teachers, award-winning teaching methodology and online learning platform will help you quickly reach your goals, whatever your level. Come and find out for yourself why we've been voted the Bon App Awards Mandarin School of the Year!
Our Chinese Courses In Shanghai
Our Chinese courses in Shanghai have been specially designed to suit learners of different ages and levels. Browse our course types below to find the right one for you.
HSK PREPARATION

Gain an official certification of your Chinese level with our HSK Preparation Courses. Following the highly recommended HSK textbook syllabus, you'll quickly gain the skills needed to pass HSK levels 1 to 6.

BUSINESS CHINESE

Need to learn Chinese for work? Our experienced teachers can help. Take specialized courses tailored to your sector and simultaneously improve your vocabulary and knowledge of doing business in China.

COURSES FOR CHILDREN

Help your child stand out from the crowd with our Chinese courses for children. Specially designed to make learning Mandarin fun, these courses are tailored to suit the age, level and needs of your little one.

INTENSIVE CHINESE PROGRAM

Speed up your learning through intensive study. Learn for 4 hours per day, 5 days a week in small groups of up to 6 students and immerse yourself in Chinese language and culture alongside others at your level.
"The Hutong School in Shanghai will always hold a special place in my heart. The teachers are truly top-quality, able to teach at a variety of Chinese levels and matching up with the individual needs of the students flawlessly. I was extremely satisfied with my teachers, and really felt like I was learning at my maximum pace in my one-on-one lessons. Highly recommended."

— Elliot S.
All of our Chinese courses in Shanghai can be tailored to suit your specific needs and schedule. Simply choose from the class formats below, and we'll organize your schedule:
Group Classes
Study Chinese with around 4-6 other students at your level. This small group setting is ideal for enabling our teachers to offer you individual support and attention, whilst allowing you to learn from others.
---
Private Classes
If you want to study particular content at your own pace, then private classes are the answer for you. Take advantage of our 1-on-1 sessions and learn Chinese the way you want, on your own schedule.
---
Specialized Classes
Looking for something else entirely? Whatever it is let us know, and we can design a customized Mandarin course to suit you.
---
Additional Services
In addition to regular lessons, all of our Chinese courses in Shanghai include the following services:

Tutorial Sessions
Our free weekly tutorial sessions enable you to receive personalized feedback on your learning progress and useful learning tips from our knowledgeable teachers.
Free Talk Sessions
Sign up for a 20-minute timeslot at a time that suits you. Practice your conversation skills with one of our teachers up to twice per week.
Hutong School Mobile App
Our AI based mobile app allows you to continue learning outside of the classroom. Take advantage of an unlimited video library and interactive exercises to practice your speaking, reading, writing and listening skills anytime, anywhere.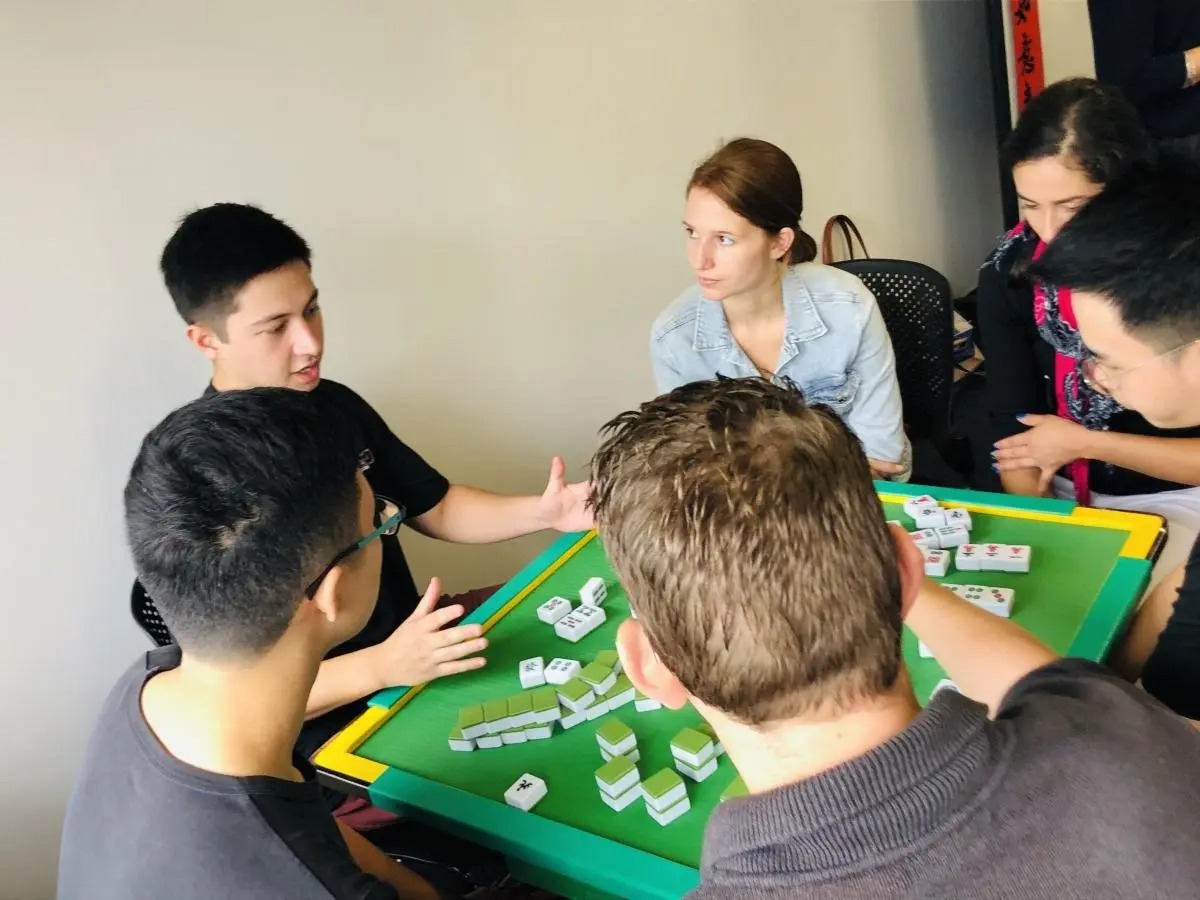 Cultural Activities
Deepen your understanding of China by taking part in our weekly cultural activities. Join calligraphy classes, cooking activities, arts & crafts workshops, day-trips in & around Shanghai, tai-chi lessons… and more.
---
"I take Mandarin Classes at Hutong School and I can recommend Hutong School to everyone! The teachers are very nice and patient. Their teaching method is a lot of fun and after just a few hours you can already start practicing."

— Barbara

Our Teachers
All of our teachers are native Mandarin speakers from around the country with a minimum of 2 years teaching experience. They've all successfully passed an intensive training period and undergo a monthly evaluation. Each member of our teaching team has achieved a degree in Teaching Chinese as a Foreign Language, has a passion for sharing their knowledge and culture, and possess excellent interpersonal skills. Many have taught Chinese abroad, equipping them with a deep understanding of how to communicate and tailor classes to suit students from different backgrounds.
---

Our Methodology
Based on 12+ years' experience teaching Mandarin, the unique Hutong School teaching methodology has been proven to speed up the language learning process. By separating spoken Chinese from character recognition and promoting total immersion, we encourage students to start speaking from the very beginning. As you progress in spoken Chinese, you develop an understanding of the logic underpinning Chinese character construction and begin laying a solid foundation for character memorisation.
We pride ourselves on our teaching quality, for which we've been awarded the iStudy Guide award for Educational Excellence. Students at Hutong School Shanghai can learn using our 3-part textbook series or choose from a range of other quality learning materials. Outside of class, you can consolidate your learning with our interactive mobile app.
---
Visit Us!
Hutong School Shanghai is conveniently located in two locations. Our city centre location is based in the lively Jing'an District, just a 15-minute walk from Jing'an Temple. Overlooking Shanghai's popular Wuding Road, our modern school boasts comfortable classrooms, a spacious lounge to relax and socialize in between classes, and a large rooftop terrace.
(+86) 21 6095 8317
info.shanghai@thatsmandarin.com

Wuding Road No. 881, Bldg 1, 5/F, Jing'an District, Shanghai, China 200040
上海市静安区武定路881弄1座5层
You can get to our school by taking a Line 2 train to Jing'an Temple Station or Line 7 to Changping Road Station.
---
Start learning Chinese today!
Contact us or call (+86) 21 6095 8317 to get started
or drop by our school to arrange your Free Trial Class
Copyright © 2006 – 2023 by Hutong School Ltd. All Rights Reserved